The Rock's diet, when he was training for Hercules, was more than 5000 calories per day spread over 7 meals. Keep in mind, these weren't small portion sizes either. These meals were enough to send the average person into a mini food-coma.
Before we dive into what The Rock diet looks like, just know it's not for jabronis. Dwayne's diet coupled with his workout is the main ingredient for the most electrifying body in all of fitness.
Working out daily and maintaining his diet go hand in hand for this mega-superstar. It all starts at 4 am when The Rock wakes up and starts his Herculean routine. While the majority of us are pressing snooze and dreaming of the perfect life, he is out trail blazin' to making it a reality.
The People's Champion has an insane work ethic and lifestyle that is undoable for jabronis.
He wakes up at 4 am and averages about 5 hours of sleep. Afterward, he goes for a heart-pounding cardio session and starts his day. He indulges in his first calorie-dense meal, breakfast, right after his cardio. The timing of his strength training varies on his schedule as he is the highest-paid Hollywood actor, global influencer, and an accomplished entrepreneur.
Regardless of his responsibilities and career, the gym is his anchor. In numerous IG stories, The Rock is seen working out even at midnight. The Rock rules his life with discipline and consistency, hence his ever-growing accomplishments.
The 49-year old mega-superstar is in his prime with no plans of slowing down anytime soon. So, a 5000 plus daily calorie diet is a must for him to fuel his bustling routine, legendary career, and to maintain his 281-pound shredded body.
Let's take a closer look at The Rock diet and its feasibility for legends in the making.
What Is The Rock Diet?
The Rock diet consists of 7 meals in a day with more than 5,000 calories. This includes 469 grams of carbohydrates, 547 grams of protein, and 99 grams of fat.
It's estimated that The Rock eats 10 pounds of food daily. He gets his protein from cod, eggs, steak, chicken, and a lot of protein powder. The Rock sticks to casein protein.
His choice of vegetables ranges from broccoli, asparagus, potatoes, onions, peppers, mushrooms, and spinach. Also, he consumes oatmeal for breakfast and rice throughout the day.
Dwayne Johnson is also a strong advocate of supplements. His daily diet includes a tablespoon of omega-3 fish oil, BCAAS, glutamine, caffeine, and multivitamins.
The Rock, in an Instagram post, also claimed that he drinks a staggering 4 gallons of water per day.
Everything from his calorie to proteins to water intake is easily double, if not more, than the average person.
Sunday is his cheat day, not a cheat meal, it consists of mouth-watering dishes that he keeps flexing on Instagram. These meals deserve to be covered in a blog of their own. But just to give you an idea, his cheat meals include The Rock toast, vodka Bolognese, a stack of pancakes, pizza, pasta, cookies, and so many other delectable dishes.
The Rock's Post-Workout Shake
Once the Rock is done with his grueling session in The Iron Paradise, it's time for him to refuel. Within 10 minutes of clangin' and bangin', The Rock devours a mammoth protein shake.
It consists of 65 to 70 grams of protein powder, 35 grams of carbohydrate powder, an apple, a scoop of electrolytes, and creatinine.
Dwayne Johnson's theory is that these 10 minutes, post-workout, are crucial for loading up on proteins and carbs to help with absorption. This crucial time is optimal for starting the recovery process as your muscles are strained and energy is depleted.
However, 70 grams of protein is way above average for a protein shake. First, not all of us are working out as hard as Dwayne Johnson is. Second, it will be converted to fat if not all of it is used up. Meaning, only consume such a protein-packed protein shake if you are working out as hard as The Rock.
The Rock Diet Sample Meals.
Just like his workouts, The Rock's diet also varies depending on the role he is preparing for. When he was preparing for his role in Hercules, his calorie consumption was through the roof.
His 22-week diet plan was disclosed on his Twitter, it looks like this.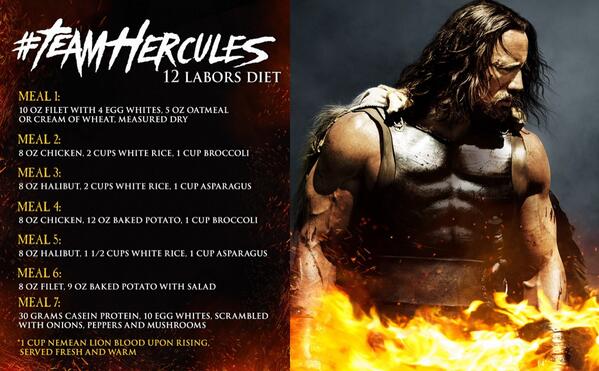 Factoring in his busy schedule, The Rock eats a meal every other 2 to 3 hours. He has his personal chef prepare all of his meals beforehand so he can microwave and devour them. Not are they neatly prepped in containers; the meat is also cut up for him. Just goes to show that Dwayne Johnson is really cramped on time.
The Rock's diet adapts to his needs. His team of personal trainers, nationalists, and chefs come together to design his meals.
In his recent post, The Rock said he is taking out all sodium from his diet as he has to go shirtless. He also mentioned that every ounce of food and water in The Rock diet is measured.
This is what The Rock Diet looks like.
Meal 1:
10-ounce steak
4 eggs
Oatmeal
Meal 2:
8 ounces of chicken
2 cups of rice
1 cup of broccoli
Meal 3:
8 ounces halibut
2 cups of white rice
1 cup of asparagus
Meal 4:
8 ounces of chicken
12 ounces of baked potato
1 cup of broccoli
Meal 5:
8 ounces of halibut
½ cup of rice
1 cup of asparagus
Meal 6:
8 ounces of filet mignon
9 ounces of baked potato
Salad
Meal 7:
30 grams of casein protein
10 egg whites scrambled with vegetables
Check Out The Rock's Workout 
Is The Rock Diet Feasible?
The Rock's diet may not be feasible for a lot of people because of two main reasons. One, it's time-consuming. Not all of us have a personal chef, nutritionist, or a personal trainer.
Buying all of the produce, vegetables, and food would take time. Now, preparing 7 meals per day would take even more time. Even if you want to prepare for the coming week, that means you're prepping 21 meals for 3 days.
Then you have to make time to consume these meals throughout the day. Most of us eat lunch on the go, it would be hard to incorporate 7 meals into our already hectic lifestyles. This is one of the reasons The Rock diet is not feasible.
The second reason is that it is costly. It's estimated that the Rock eats around 821 pounds of cod per year. You're expected to spend north of $42 per day if you want to follow this diet down to the dot.
These two reasons make The Rock diet not feasible for the average lifter.
Another reason is the 5,000-calorie intake. Unless your routine and workouts help you utilize these calories efficiently, not only will it be a waste but a burden on your body.
The Rock is massive, his routine and workouts justify his calorie intake. Not just this, the man averages 5 hours of sleep per night even with a strenuous routine.
The Rock is far from normal, either in terms of sleep, diet or work ethic. Mimicking The Rock diet to the dot would require a lot of revamps in different aspects of your life.
These reasons are why The Rock diet isn't for everyone.
Power Your Workouts
How Much Does Dwayne "The Rock" Johnson Weigh?
Dwyane "The Rock" Johnson weighs 281 pounds or 127 kg. The Rock talked about his recent weight in an Instagram post during the Covid-19 lockdown. This increase in weight is for his recent role in Black Adam for which The Rock has been training non-stop.
In another Instagram post, The Rock said he is in his 2nd phase of diet and training. He told his viewers that this was the hardest phase as he has to maintain this look for the next three months of shooting. By maintaining his looks, he is referring to the definition, conditioning, density, and muscle separation of his body.
Here is a fun fact. When The Rock was 16 years old, he was 6'4 and 225 pounds. Meaning he has giant DNA running in his blood. Anyway, the other students at his school all thought he was an undercover cop.
The Rock says this is due to his size and mustache which very few 16-year olds get at that age.
Key Takeaway
The Rock diet can truly turn you into a massive, trailblazin', and jibroni beatin' superstar. However, there are very few people who have successfully seen this diet through.
His diet isn't just for a few months, it's a lifestyle. An expensive lifestyle. While we all dream to be The Rock, it's not easy as it seems.
He has an insane work ethic, workout routine, and a diet. All three are dependent on each other. You can't follow The Rock diet and eat 5,000 calories per day and not work out with the same intensity as he does.
 Overall, it's an ideal and clean diet but it's time-consuming to make 7 meals in a day considering not all of us have a personal chef.
We can definitely smell what The Rock is cooking but we just can't stomach it.
Continue Reading